MAXIMATOR air amplifiers allow the compression of air or nitrogen under pressure. The units can increase the network pressures by 4 or 6 bars up to the desired final pressures. The air amplifiers are motorized with compressed air from the workshop network and cover a wide range of amplification ratios.
All of our air amplifiers can be supplied with an air control unit comprising a filter, a pressure regulator with manometer and an air shut-off valve. The desired operating pressure can be preset by means of the air control unit in correspondence with the different pressure ratios. We offer a choice of standard air amplifier station or custom solutions.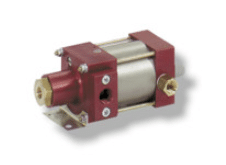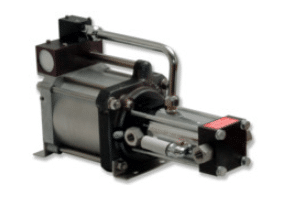 The air from the standard compressed air network is compressed to a desired higher final pressure. It is a simple, safe and economical mode of operation. Thus, the expense for an internal high-pressure system or for a separate decentralized compression plant can be spared.
The advantages of MAXIMATOR air booster:
Pressure increase directly upstream, no high-pressure network required.
No energy consumption as soon as the final pressure is reached.
No electrical installation required.
PB : Process gas discharge pressure
PL : Engine air pressure & Process gas inlet pressure
Detailed booster principle and pressure ratio principle: