Valves, Tubes and Fittings
We have a wide range of products, consisting of valves, tubes and fittings, available from ¼ to 1.5 inch and for pressures up to 10,500 bar. The standard temperature range is between -50 ° C and + 230 ° C but we offer optional modification kits to reach minimum values of -252 ° C and maximum values of + 650 ° C.
Our product line consists of four distinct series:
Low pressure up to 1050 bar (NPT or BSP connection)
Medium pressure up to 1,550 bar
High pressure up to 4500 bar
Very high-pressure 10,500 bar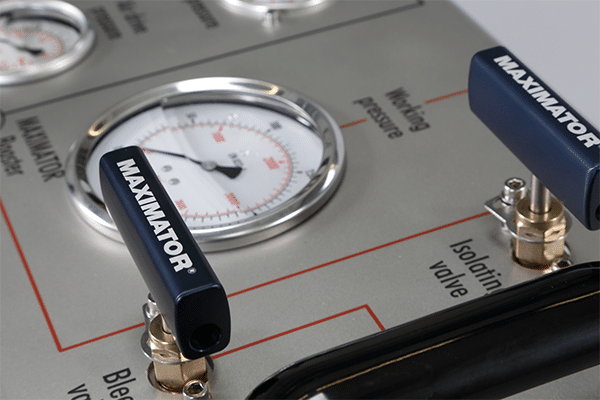 Waterjet cutting, oil industry, manufacturer of special machines, automotive industry, hydrogen station manufacturer, manufacturer of pressurized components
The advantages of MAXIMATOR valves, pipes and fittings: :
All of our products are designed and manufactured in Europe
In order to meet the current market's demand, our engineers can design products that matches your request, and we can study any specific product request on specifications.
Short delivery time thanks to flexible and optimized production lines.
Possibility of manufacturing our components in different materials: Inconel 625, Hastelloy C276, Super Duplex, 6Mo…
Quality system allowing full traceability
Our teams are trained in the production of pressure equipment, either through our training center or through the experience of certain employees who now have more than 30 years of experience in the field of high-pressure.
Our commitment to Maximator France values.
Our technology, for pressures higher than 1050 bars, is based on "cone and thread" technology which allows the use of a metal-to-metal seal but also responds to the mechanical constraints associated with high pressure.
The medium (1,550 bars) and high-pressure (4,500 bars) connections are mainly composed of three components:
The tube :

A cone with an inclination of 58 ° and a thread with left-hand pitch are made at the end of the tube.

The ring :

The ring is screwed onto the left-hand thread previously made on the tube.

The nut :

The nut will be used to press the tube-ring assembly onto the female cone of the equipment. This tightening must be carried out at the torque to obtain optimal performances
One of the main components of our range remains our valves; they will be in charge of conveying pressurized fluids but also of guaranteeing pressure tightness while guaranteeing the safety of the installation.
These valves are equipped with a non-rotating needle, which will produce a metal-to-metal seal in contact with the valve seat. The advantage of the non-rotating needle is to reduce the friction between the needle and the seat and thus prevent premature wear of the components. The movement made at the handle of the valve is therefore not transferred directly to the needle.
Metal-to-metal sealing guarantees significant protection against corrosion but above all a very high sealing rate, which allows these valves to be installed on circuits carrying the so-called dangerous gases (Oxygen, H2S, CH4, H2, etc…)
To make connections in accordance with medium and high-pressure requirements, MAXIMATOR has developed a range of tool cases to allow you to make your own cones and threads. These cases are available in several versions, depending on the pressure range used or the size of the tubes in your installation.
Below is a photo of these cases: