Supercritical equipment and fluids
In these areas of chemistry, cosmetics, food and aeronautics, we realize on a daily basis the importance of offering increasingly ecological processes that respect the environment.
Convinced of the merits of this approach, and on the strength of the experience, resources and skills at our disposal, we wanted to meet the expectations of our customers and the market by offering our customers to support them in defining their supercritical fluid treatment equipment.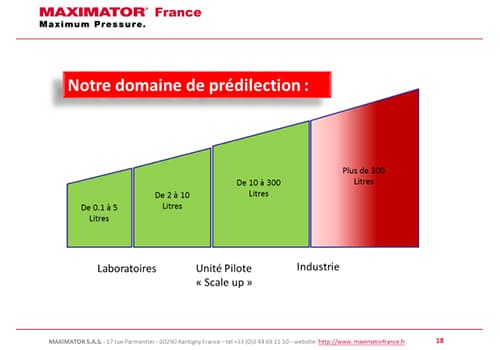 The advantages of MAXIMATOR supercritical fluid equipment:
Our 30 years of experience and expertise in reactors and autoclaves
Our own design office to meet your specific needs
Our own production workshop, with experts in fluid mechanics and pressure vessel manufacturing
Our expertise in the field of reactors & autoclaves which allows us to design and manufacture turnkey installations, from the laboratory scale to that of industrial production, for processes such as extraction, fractionation, impregnation, or drying.
Our equipment complies with the codes and standards in force and we adapt to the specificities of each of our customers, by constantly listening to them, in order to offer them a tailor-made service and equipment.
GREEN CHEMISTRY
Purification of polymers. Hydrolysis. Synthesis of polymers. Supercritical oxidation of water (SCWO). Subcritical water extraction.
PHARMACEUTICAL AND BIOMEDICAL
Extraction of natural products using Supercritical CO2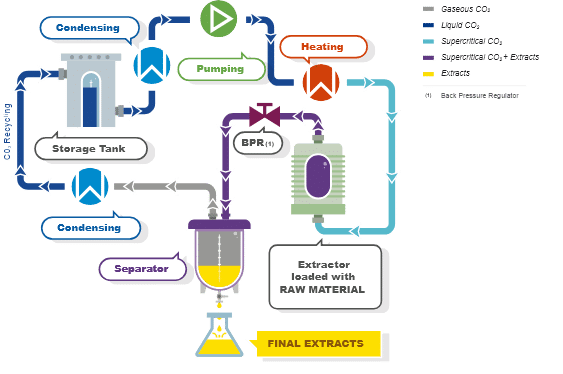 The process consists of solubilizing, extracting and recovering valuable compounds (essential oils, perfumes, pigments, active substances contained in a plant or a plant food such as CBD from a weed), or unwanted components (wax, binders used for ceramic or metal powders, pollutants, residual solvents) of a porous solid raw material, using the suitable supercritical fluid as solvent. A simple variation of the pressure and temperature parameters allows selective extraction of molecules from the same raw material, which is a great advantage over traditional extraction methods.
The addition of a co-solvent (such as ethanol or acetone) changes the polarity of the main solvent and then increases the solubilizing power if necessary. Supercritical Fluid Fractionation (SFF) is possible using a fractionation column and countercurrent flows of supercritical fluid and liquid feed to be treated: high-level purification (fish oil, lubricants) and fractionation of extracts are then available.
Extraction of natural products (raw materials).
Drying of the aerogel samples.
Automatic collection using x2 HP gravity separators.
X2 Sapphire windows installed on the 1st Separator.
5 liter autoclave equipped with extraction basket and sample holder.
All components are mounted on a frame that is clean and user-friendly.
Complete instrumentation, valves and utilities included.
Main process parameters Control / screening using a PLC.
Main process parameters Control / screening using PLC and PC.
P&ID, Process parameters and alarm display on the PC screen.
Data recording and subsequent use of documents.