Reactor units of pilot laboratories
Reactor units of pilot laboratories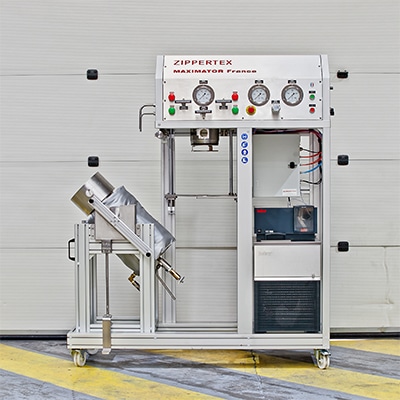 Design and production of units built around reactors, autoclaves or pressure equipment:
Pressure range: from secondary vacuum (10-7 mbar) up to 4000 bar
Temperature range: -196 ° C to 1000 ° C
Volumes: 30 micro Liters up to several hundred liters
Materials: 304/316 stainless steel, Hastelloy, Inconel / with or without coating
Types of closure: flanged, screwed, quick opening, etc.
Injection system, batch or continuous
Hot / cold temperature regulation
Controlled flow syringe pump
Controlled flow syringe pump
Gas and / or liquid pressurization
Programming by PLC (cycling, ramps, etc.)
Installation under a hood, in modular construction, in a container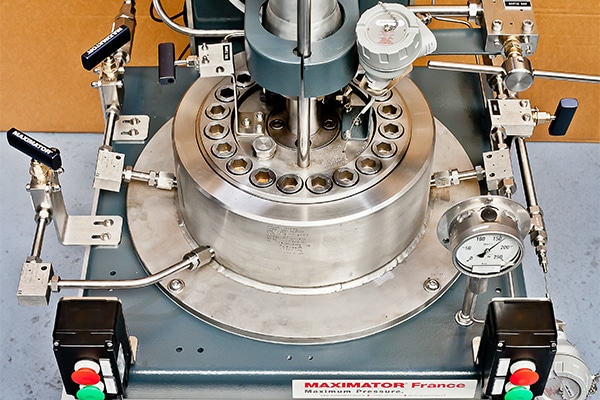 Catalysis, Synthesis, Corrosion tests, Polymerization, Impregnation, envelope tensile machine, Supercritical fluid treatment, Hydrogenation, Rock mechanics, Cell…
The advantages of MAXIMATOR reactor units:
Our 30 years of experience and expertise in reactors and autoclaves.
Our benchmark status in the manufacture of custom autoclaves and pressure assemblies.
Our own design office, able to meet your specific needs.
Our own production workshop, with mechanical expertise in fluids and the manufacture of pressure vessels.
Our ability to also offer, upstream and downstream of these autoclaves, the production of pressurizing and warming benches, regulation, gas treatment, etc..;
Our team of field specialists, experienced in interventions on-site, both industrial and research laboratories.
Our commitment to Maximator France values.
Your needs in terms of size, material compatibility, pressure level and temperature
Your requirements and user expectations in terms of ergonomics, accessibility, maintenance
Normative and regulatory requirements (PED, CE, ATEX, nuclear, etc…)
… while advising them on the optimization of the proposed system, thanks to our expertise, our experience, in the field of reactors & autoclaves.