MAXIMATOR hydro pneumatic pumps have been developed to meet the needs of manufacturers in the automotive, medical, food, plastics, but also chemicals and petrochemicals sectors.
Our pumps allow:
Outlet pressures of 40 to 7000 bar
Displacements from 0.6 to 508 cm3
Flow rates (theoretical) from 0.28 to 48 l / min
We offer complete, modular units that can quickly respond to your need to compress a liquid. These sets are configurable according to the requested performance.
All that is necessary is an air source to operate these compact, lightweight and high-performance packages.
For any request, you can let us know the nature of the fluid, the suction pressure, the discharge pressure, the flow rate or the volume to be inflated and the inflation or transfer time, and the classification of the area where the unit will be installed. (ATEX zone compatibility).
We take care of the rest.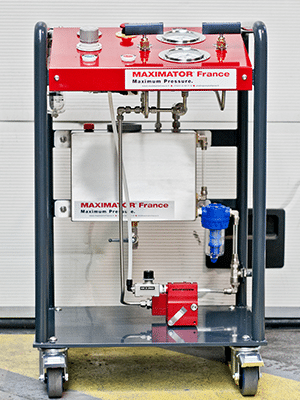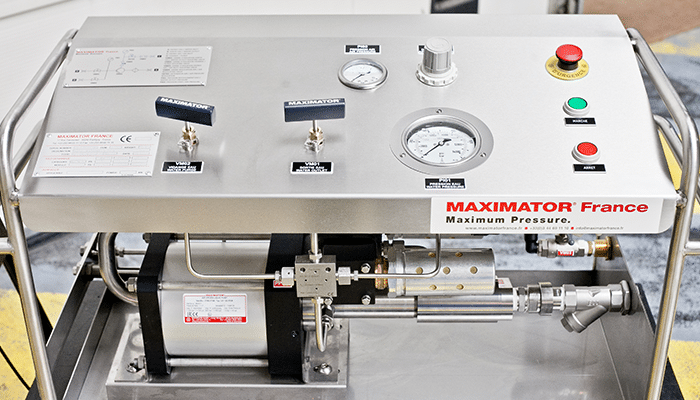 Unit with MO and S series pumps up to 1000 bar: for oil use
Robust construction. Lightweight and wide range of pressure ratios.
Ideal for powering a variety of oil / hydraulic operations.
Single or double acting pump
Lifting function
Clamping device
Tensile test and pressurization
Hydraulic press
Unit with M and G series pumps up to 7000 bar: for oil and water use
Corrosion resistant stainless steel materials for water applications.
Single or double acting pump
Hydrostatic tests – valves, tanks, pressure devices, pressure switches, flexible hoses, pipes and tubes, manometers, gas cylinders
Burst and cycle fatigue tests of the above components
Calibration of manometers and transducers
Leak test
Pressurization of pressure vessels to test various components
Unit with MSF, GSF and GX series pumps up to 1450 bar: Pumps for chemical and offshore applications
Similar to the M and G series, the MSF and GSF pumps feature an isolation chamber and PTFE seals to meet the specific requirements of chemical applications.
The GX series of pumps deliver high flow.
They are made in stainless steel with external corrosion resistant components for difficult installations and to withstand aggressive environments.
Ideal for offshore applications in contact with cold.
Coolant injection
Aeronautical and automotive tests – Brake fluid, Skydrol
Transmission fluids and power steering fluids
Chemical fluid transfer and pressurization
Unit with DPD series pumps:
The DPD series pumps are large double acting pumps that deliver a high flow rate at high pressure up to 2100 bar (30,450 psi).
Waterjet cutting in intermittent service
One or two component injection pumps
Test Pressure generation chuck-extraction machinery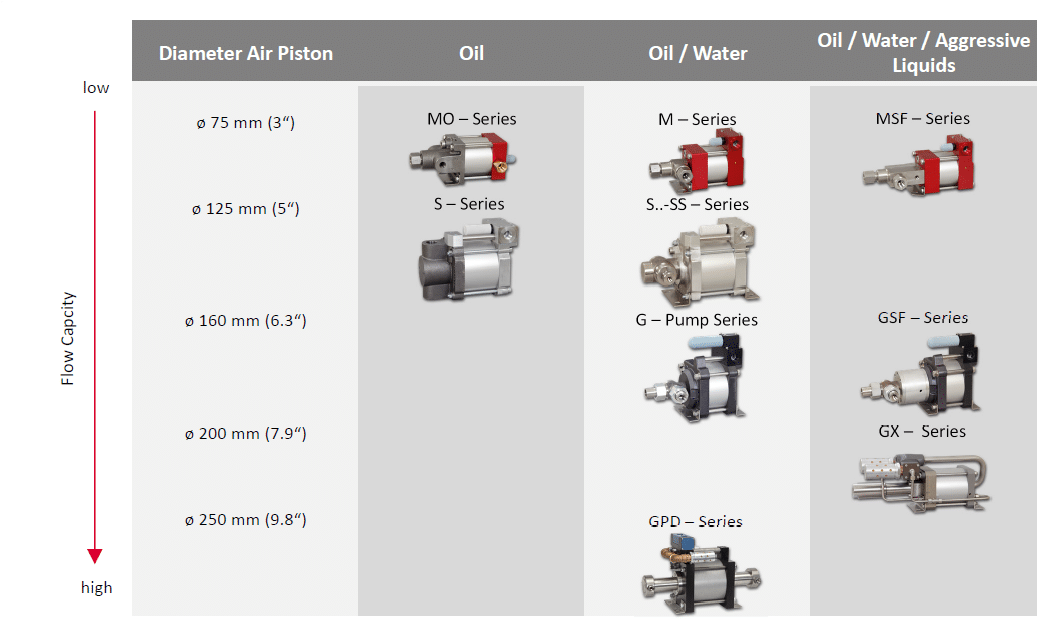 The advantages of MAXIMATOR gas booster units:
Pressure regulation via manual air regulation or pneumatically operated valve
Operation with compressed air, allowing use in explosion-proof areas (ATEX)
Automatic stop of the pump when the preselected final pressure is reached
Declaration of Incorporation according to Directive 2006/42 / EC Annex II, No. 1 B
Suitable for most liquids and liquefied gases
No energy consumption while maintaining pressure
No heat generation when maintaining pressure
A Declaration of Incorporation according to Directive 2006/42 / EC Annex II, No.1 B
Easy installation and trouble-free handling
Low maintenance
A local customer service, available & efficient
MAXIMATOR pumps are ideal for a wide variety of oil, water and chemical applications. MAXIMATOR pumps operate with air (or neutral gas) at a driving pressure of 1 to 10 bar (14.5 to 145 psi). The operating principle is similar to that of a reciprocating amplifier in which the control of the piston in the final position is regulated by a 4/2 piloted valve