MAXIMATOR booster technology can compress all types of gas up to 2400 bar and for oxygen up to 350 bar. The compression is oil-free, which guarantees the purity of the gas at the outlet. The control element is only limited to an air source between 1 bar and 10 bar. All the elements in contact with the gas are made of stainless steel and the dynamic seals are made of elastomers with very good wear resistance. These boosters can be used in hazardous areas (ATEX) and can meet specific requirements such as NACE
Single stage overpressure / single acting / 1 single motor
Single stage overpressure / single acting / double motor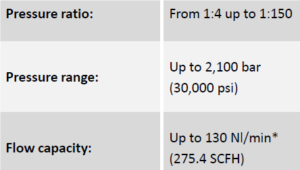 Single stage overpressure / double acting / 1 single motor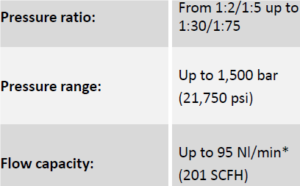 Single stage overpressure / double acting / double motor
Double stage of overpressure / double effect / 1 single motor
2 overpressure stages / double acting / 2 motors
2 overpressure stages / double acting / triple motor

8DLE series: single overpressure stage / double acting / 1 motor
Due to the wide range of models, it is possible to select the optimum booster for each application. Single-stage, double-acting or two-stage boosters or a combination of these models can be used to achieve different operating pressures and flow capacities.
Some application examples :
Pressure test with gas
Gas transfer
Gas recovery
Charging nitrogen accumulators
Gas assisted injection (plastic, etc.)
Transfer of oxygen cylinders
Loading of breathing air bottles
Leak test
Hydrogen application (filling station, leak test, burst test, etc…)
The advantages of MAXIMATOR boosters:
Operation with compressed air allows use in explosion-proof areas
The booster automatically stops working when the pre-selected final pressure is reached.
Suitable for most gases and liquefied gases
No need for electricity to operate the booster
No energy consumption while maintaining pressure
No heat generation when maintaining pressure
Easy installation and trouble-free handling
Low maintenance
PA: Process gas inlet pressure
PB: Process gas discharge pressure
PL: Engine air pressure
1: HP piston (High Pressure)
2: Non-return valves
3: Compressed air motor piston / driving part of the booster
4: 4/2 pilot operated valve distributor drawer
5: HP cylinder of the booster
6: Engine air exhaust
Detailed booster principle and pressure ratio principle: